Released regularly, the Richard Flint Photography podcast features photography news, photo projects, website and podcast links, multimedia, videos, photography articles, details about upcoming exhibitions, photographic awards and more. Several bonus podcasts are also recorded each year.
Available in an easily downloaded audio format, the photography podcast is released regularly (around six episodes a year plus a number of special podcasts focusing on photo projects. The podcast covers all sorts of photography related topics and issues including photography books, photographers, classic photojournalism, landscape and locations etc.
Podcast Content
Each episode features a number of recommended links to online galleries, multimedia featuring contemporary and classic work by a wide range of photographers both old and new. From Niépce through to Nachtwey, the podcast covers all aspects of photography with a particular focus on photojournalism. A few bonus podcasts are also recorded each year either on location somewhere in the UK or looking closer at a particular subject matter.
Podcast Links Page
All of the weblinks for the online digital content mentioned in the podcasts, including an archive of past links from podcasts going back to 2010, can be found on the dedicated podcast links page at https://darkerskies.wordpress.com/podcast
Although the podcasts do look at certain technical issues from time to time, the processes of image-making, the photography itself and the photographers who make those fantastic images are the topics mainly concentrated on. The focus is on the image, the process of taking photographs and not the equipment used.
Subscribe to the Podcast
Subscribing to the podcast is easy using Apple iTunes or Android, or you can use the archive links below to download the podcasts as an MP3 audio file.
The podcast's raw RSS feed can be found at https://richardflintphotography.jellycast.com/
The more user-friendly Feedburner RSS feed can be found at http://feeds.feedburner.com/TheRichardFlintPhotographyPodcast
---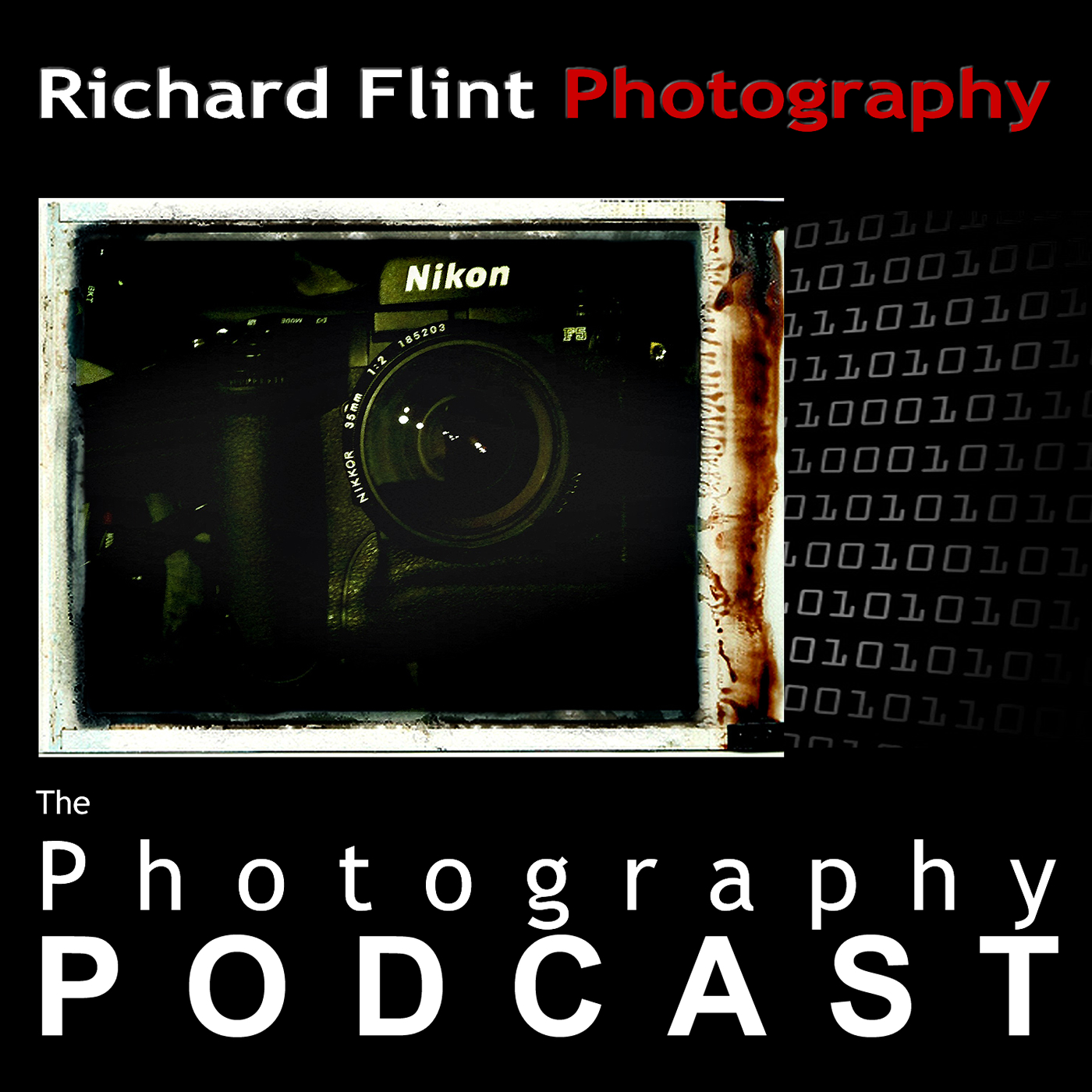 In the podcast… The website gets some love and improvement, some things that can't be talked about now but will talk about later, and a bit of news about an upcoming Scotland trip. In the photography links, there is photo repair on a huge scale in Japan as Tsunami victims are reunited with their family photos/albums, Ian Berry's photo of a summer's day in Whitby, photo in a Russian Naval base from 1990, and America by streetlight by photographer Daniel Freeman. All of the weblinks for the… Released regularly, the Richard Flint Photography audio podcast contains news, featured photographers, upcoming exhibitions, links to photography plus more.
Recent Podcast Episodes
In the podcast… The website gets some love and improvement, some things that can't be talked about now but will talk about later, and a bit of news about an upcoming Scotland trip. In the photography links, there is photo repair on a huge scale in Japan as Tsunami victims are reunited with their family photos/albums, Ian Berry's photo of a summer's day in Whitby, photo in a Russian Naval base from 1990, and America by streetlight by photographer Daniel Freeman. All of the weblinks for the… Released regularly, the Richard Flint Photography audio podcast contains news, featured photographers, upcoming […]

In the podcast: The difficulties of writing introductions for photo books, the website shop update issue is finally fixed, and a new Ben Nevis gallery in the portfolio section. In the photography links Michael Bennetts excellent forty-year-old photographs of North Wales seaside resorts out of season, winners of the 2021 Underwater Photographer of the Year contest and Grace Robertson's postwar Britain capturing a nation at work, at play – and in the delivery room in the 1950s. All of the… Released regularly, the Richard Flint Photography audio podcast contains news, featured photographers, upcoming exhibitions, links to photography plus more.

A bonus podcast looking at photographer Chris Killip who died in October 2020 at the age of 74. Killip's excellent 1988 photography book 'In Flagrante' highlighted the effect of deindustrialisation on communities in the northeast of England. The book remains highly influential with many photographers. All the links this month look at Chris Killips photography with also a video and podcast link where Chris Killip talks about his work. The podcast links can be found at… Released regularly, the Richard Flint Photography audio podcast contains news, featured photographers, upcoming exhibitions, links to photography plus more.

In the last podcast of the year, Richard takes a personal look back at the year, The Two Towns photo book gets an update and the website gets a secondary menu added to highlight a few areas of the website. In the links, Searching 80,000 miles for the American dream – photography by Ian Brown, A 70-year-old photographic mystery from a recently developed roll of film, the Agency Photographer of the Year 2020 – shortlist and finally the excellent Women Photograph: 2020 Year in Pictures. As usual,… Released regularly, the Richard Flint Photography audio podcast contains news, featured photographers, upcoming […]

In a late May podcast due to ill health – delays to the photo book releases due to an injured back and a dose of the flu. Details of a recent trip to the Scottish borders in early May and in the links it's a regular weekend reading list for photographers and filmmakers plus unseen images by Weegee lost for 82 years. All of the weblinks for the digital content mentioned in the podcasts can be found on the dedicated podcast links page at https://darkerskies.wordpress.com/podcast/ Released regularly, the Richard Flint Photography audio podcast contains news, featured photographers, upcoming exhibitions, links […]

In this month's podcast: The Two Towns photobook gets closer to release with the final edits to text taking place plus the website will be getting a new gallery addition in December. In the website links there is Jerome Sessini's fantastic Images from his return to Mexico city where he first became a photographer, a grandfather's hidden WW2 photo album – the fascinating story of a photo album documenting life in the Royal Canadian Airforce – found only after the photographer had died and… Released regularly, the Richard Flint Photography audio podcast contains news, featured photographers, upcoming exhibitions, links to […]

In this special September podcast… I take a look back at my trip to Fort William in Scotland from mid-September and choose two… NO… THREE images from the trip. The photos, two from Mallaig and the third from the summit of Ben Nevis, can be found on the Richard Flint Photography Instagram page at https://www.instagram.com/richardflintphoto/ No photography links this month but please check out and follow me on Instagram. Released regularly, the Richard Flint Photography audio podcast contains news, featured photographers, upcoming exhibitions, links to photography plus more.

In the August 2020 podcast… The podcast becomes available via Amazon Music, Instagram changes its API rules that cause temporary issues on the website and details about a special podcast coming next month. In the weblinks, we have a collection of 3000 cameras, wet plate collodion images of female skateboarders in California and a photographer captures 'hidden' life with a disability. All of the weblinks for the digital content mentioned in the podcasts can be found on the dedicated podcast… Released regularly, the Richard Flint Photography audio podcast contains news, featured photographers, upcoming exhibitions, links to photography plus more.

In the July Podcast: After a decade I make the switch from iPhone to Android but there is a photo app I'll rather miss. I also discuss the rather interesting website I've been building recently. In the photo links, there is a heavy Magnum photo agency theme starting with Paul Fusco's superb photography from Robert Kennedy's funeral train – the Magnum photographer passing away recently at the age of 90. Also on the 25th anniversary of the Srebrenica genocide, Sumeja Tulic reflects on Magnum… Released regularly, the Richard Flint Photography audio podcast contains news, featured photographers, upcoming exhibitions, links to […]

In the June 2020 podcast: Olympus announces they will stop making cameras, the main website goes wide with a slight tweak to the design, photo book news about a potential release for the first book of 2020 and in the links, there is photography and photo discussion by Stuart Franklin, images from the Magnum archive of social unrest in 1968, Shirley Bakers excellent street scene photographs from Manchester and Salford. All of the weblinks for the digital content mentioned in the podcasts can be… Released regularly, the Richard Flint Photography audio podcast contains news, featured photographers, upcoming exhibitions, links to […]